At this time of year you hear a lot of "oh, I'm just going to cheat on Thanksgiving, Christmas, <holiday of your choice>." Which unfortunately is usually followed by a few months of slippery slopes and then trying to get back on track. The first year that I did keto I actually catered my annual Christmas party for my friends and no one noticed/cared that there were no carbs in the food. I got a few comments about how much they missed my roast potatoes (I am really good at making those) but unfortunately there's no way to keto that. I made a bacon wrapped roast turkey complete with stuffing. We also had various salads, roast veggies, a few other meat dishes and a pumpkin pie for dessert. It was an amazing dinner. Calorie counting went out the window, but over holidays and birthdays I usually practice a "calories arent real" mentality.
This blog post is a collection of my own holiday themed recipes as well as some of my favourites from other food bloggers. I hope it helps and that everyone has a wonderful festive season.
Appetizers:
1. Fried halloumi: 
Remove the halloumi from the packaging and pat dry. Slice the cheese into the shape you want, I usually do long thin fry-like shapes. Sprinkle with salt and pepper. Heat up the butter in a skillet and fry the halloumi until the outside turns golden brown and crispy. 
2. Spiced bacon deviled eggs - ruled.me
3. Keto jalapeno popper deviled eggs - ketodietapp
5. Prosciutto wrapped asparagus:
asparagus
prosciutto/bacon
olive oil
Preheat the oven to 220C/425F. Wash the asparagus and trim the fibrous ends off. Wrap them in the prosciutto and place them on a baking tray in a row. Drizzle with olive oil, sprinkle salt over them, and roast at 220C for 12 - 15 minutes depending on thickness. You can grill them slightly if the prosciutto isn't crispy enough.
6. Goat cheese spread - realsimple
7. Chicken skin & bacon crisps
8. Low carb fathead crackers - ditchthecarbs
9. Cheddar jalapeno bacon biscuits - peaceloveandlowcarb
10. Keto antipasto:
1 bag of mixed greens or head of romaine chopped fine
6 ounces prosciutto (squared)
6 ounces salami or pepperoni (cubed) or sausage
1/2 cup artichoke hearts (sliced)
1 cup olives mix of black and green
1 1/2 cup hot or sweet peppers (pickled or roasted)
1 Tbsp Pepper
1/1 Tbsp salt (as desired)
Italian dressing on side
Combine all of the above (not the dressing) on a large plate. Add the dressing as desired just before serving.
11. Devilled Eggs a la YL:
dozen eggs
chicken breasts
mayo
sour cream
celery (optional)
onions (optional)
mustard (yellow or spicy brown)
paprika (optional)
Boil eggs, then peel them and slice eggs in half. Discard yolks or save them for other uses.
Cook the chicken breasts however you wish - boil, grill, bake, and then cut into cubes or chunks. Also works well if you shred the chicken.
If using, cut the celery and onions to a small dice.
Mix desired amount with the chicken, and add mayo, sour cream, and mustard until the desired consistency is reached.
Spoon into egg whites, top with paprika if desired and chill until ready to serve.
12. Crab stuffed mushrooms - justapinch
13. Sausage stuffed mushrooms - peaceloveandlowcarb
Mains:
1. Almond bun stuffing - cavemanketo
2. Thanksgiving stuffing - thenourishedcaveman
3. Spicy sausage and cheddar stuffing - alldayidreamaboutfood
4. Blueberry and pecan stuffing:
300g pork sausage meat
1 egg
1/4 cup chopped pecans
chives/other herbs of choice (basil is great, as is thyme)
1/4 cup blueberries
1/4 cup pecan flour
1 tsp salt 
black pepper
1 tsp chilli flakes
Mix all the ingredients in a large bowl. Once thoroughly combined, place the stuffing in the turkey/chicken. The stuffing can be frozen. The blueberries in this recipe add a sweetness that raisins usually add to traditional recipes. I made this for non keto people and no one even noticed that it wasn't "real" stuffing. You can also increase the amount of flour you use if you want it to be slightly more "bready". 
5. Bacon wrapped turkey:
1 large turkey
streaky bacon (amounts vary based on size of turkey)
stuffing of choice
1 cup duck fat (room temperature/liquid)
100g butter
1 cup dry red wine
1 tsp crushed garlic
flavour injector
salt & pepper
Defrost the turkey and remove the giblets. Place them in the fridge. Rub the salt and baking powder mixture into the skin. Let the turkey dry brine in the fridge for about 24 hours before you need to cook it. If you prefer wet brining, do that.
Pat the turkey clean/dry with a kitchen/paper towel. Using the flavour injector, inject as much duck fat under the skin/into the meat of the turkey as possible. I've always heard that people don't like turkey because it's dry, this is a 100% fool proof way to ensure that yours isn't. Your turkey should be in a baking tray while you do this as it will get messy. Some of the duck fat will run out, you can collect it and inject it in different places. The idea is to just get as much of the fat in the turkey as possible. Stuff your turkey with your keto stuffing and tie the legs together with twine or string.
Wrap the streaky bacon around the turkey. Make sure all the skin is covered in bacon. You can do more than one layer if you think the layers look a bit thin. The bacon layer doesn't need to go around the bottom of the turkey, only the parts you can see.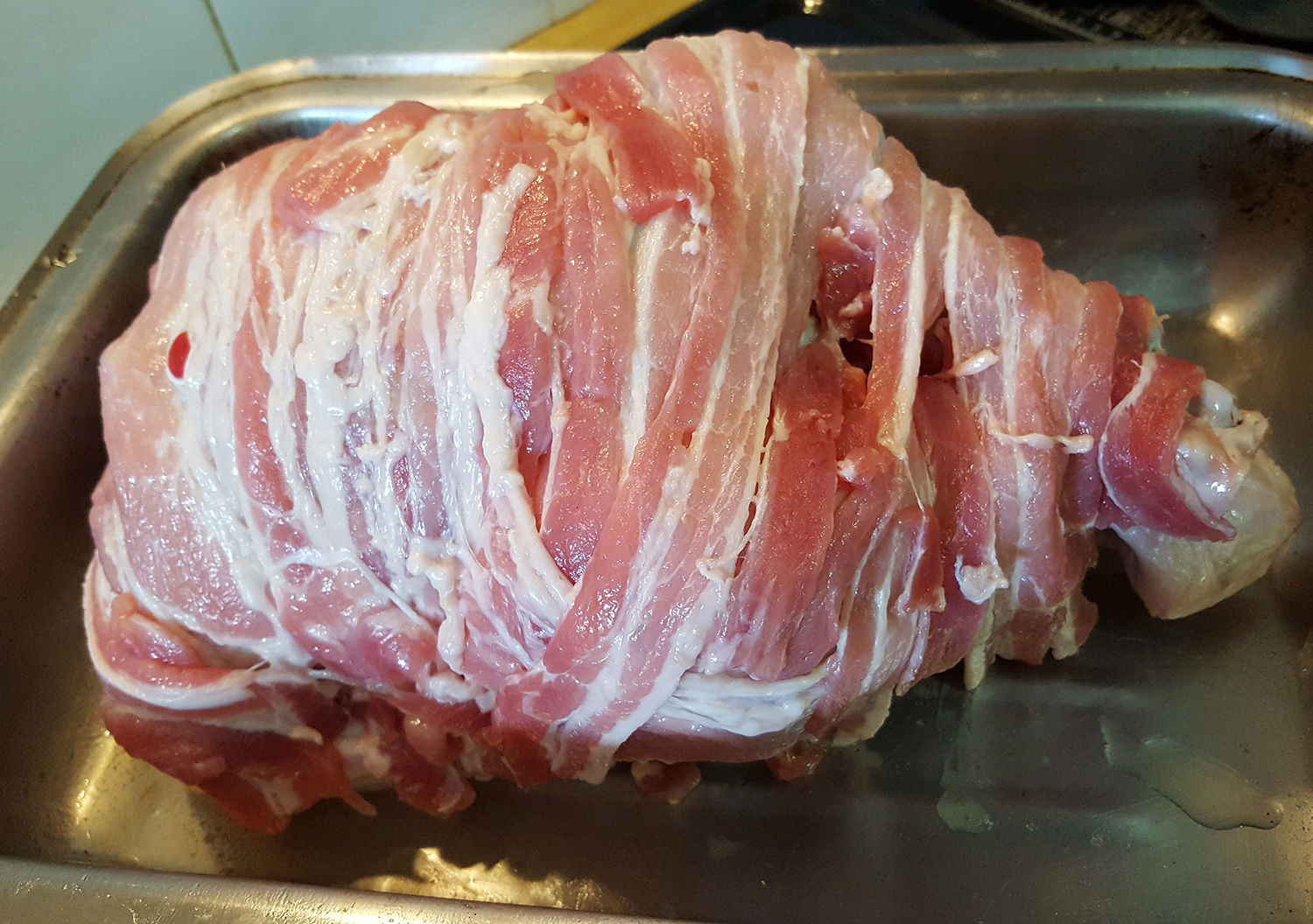 Melt the butter and add the garlic. Stir well for a few minutes. Add the red wine and a pinch or two of salt. This is the basting sauce. I basted the turkey every 30 minutes. This step is optional but it adds some extra flavour.
I prefer to cook turkey in a weber with the lid on. You can do it any way that you are comfortable with. I have included some links about how long to cook turkey. A standard way to time is 30 - 40 minutes per kg of turkey. I have also included a link that has per lb measurements.
Once the turkey is done, remove the stuffing and the bacon and slice it. Save the drippings for gravy. 
6. Using the giblets from the turkey: 
Once you are cooking the turkey, you can start using the giblets (and neck). Place them in a small sauce pain and cover them with boiling water and a pinch of salt. Bring to a boil and then reduce the heat to keep them simmering for about 45 minutes. Try not to add more water unless absolutely necessary. Once cooked, use a slotted spoon to remove the giblets and neck.
Once the meat is cooled enough to handle, shred the meat off the neck (discard the bones) and dice the giblets finely.
Pour your turkey drippings into the saucepan with the giblet broth. Stir and bring to the boil again. Add the diced giblets and meat.
Reduce the broth as much as possible. You want all the flavour but not huge amounts of liquid. To thicken, whisk some cream cheese into the gravy until it starts to resemble gravy. You could also use a small amount of xanthan gum to thicken it.
7. Low carb bourbon glazed ham - cavemanketo
8. Apricot and mustard glazed ham - dietdoctor
9. Garlic butter roast chicken:
1 large whole chicken
80g butter (melted)
3 Tbsp crushed garlic
salt & pepper
2 tsp paprika
1 small lemon cut in half
1 cup chicken stock
In a small bowl mix the butter, garlic and juice from 1/2 lemon. Pat your chicken dry with a kitchen/paper towel. Place the squeezed lemon and other half of the lemon inside the chicken cavity. You can also use stuffing for this step if you'd prefer.
Carefully pour the garlic butter over the chicken, getting it evenly over the whole chicken. Sprinkle a decent amount of salt and pepper over the skin. Sprinkle the paprika over the skin.
Pour the cup of chicken stock into the bottom of the roasting dish and put the lid on. Roast the chicken for 1.5 hours at 180C/350F.
10. Roast lamb:
leg of lamb
1/3 cup of butter
fresh rosemary sprigs
4 garlic cloves
salt & pepper
1 cup red wine
1 cup beef stock
Preheat the oven to 350F/180C. Place the lamb in a roasting dish with a lid. Using a sharp knife, make a few incisions all around from the top. Slice the garlic cloves into slivers and press them into the holes. Push some rosemary into the holes with the garlic. Soften the butter and rub it into the leg of lamb. Sprinkle a generous amount of salt and pepper over the butter.
In the roasting tray, add the wine and beef stock around the base of the lamb. Add any remaining rosemary to the stock. Close the lid of the dish and cook the lamb for 30 minutes per 500g.
Vegetable suggestion: add mushrooms, zucchini, gem squash, brussels sprouts, baby carrots or other such vegetables to the pot while you cook the lamb. Easy one pot meal.
11. Roasted shoulder of lamb (ignore the potatoes) - JamieOliver
12. The perfect sunday roast - ruled.me
13. Easy brined smoked turkey breast - mylifecookbook
Sides:
1. Brussel sprouts gratin - 12tomatoes
2. Caulimash:
1 large cauliflower
boiling water
1 Tbsp butter
2 Tbsp cream cheese
chives
1/2 tsp crushed garlic
salt & pepper
immersion blender
Cut the cauliflower into florets, place in a small pot with salt and boiling water. Boil until cooked (5 - 10 minutes). Drain well and put the pot back on medium heat. Add the butter, cream cheese and garlic and stir until melted/mixed. Add some more salt & pepper. Using the immersion blender, puree the cauliflower. Chop in some chives and stir. Serve.
3. Green bean fries - tasteaholics
4. Broccoli cheddar soup - tasteaholics
5. Broccoli gratin - kalynskitchen
6. Cheesy cauliflower puree - ibreatheimhungry
7. Almond flour biscuits - uplateanyway
8. Roast vegetables:
zucchini
baby carrots
mushrooms
asparagus
cauliflower
broccoli/broccolini
green beans
brussels sprouts
bell pepper
onion
chillies
turnips
additional: halloumi, feta cheese & olives
Combine a mixture of any of the above vegetables in a roasting tray and drizzle olive oil over them. Generously salt them and add black pepper as desired. Roast in an open dish at 350F/180C for 30 - 60 minutes depending on which vegetables you use.
9. Skillet roasted bacon brussels sprouts - peaceloveandlowcarb
10. Twice baked mashed cauliflower - mamaeatsclean
Salads:
1. Green bean salad with walnuts and fennel - realsimple
3. Oven roasted caprese salad - ruled.me
4. Grilled zucchini with caprese salad - taste.com
5. Spicy keto coleslaw:
half a large head of cabbage
1 chilli (you can add more if you like it hotter)
2 baby carrots
2 Tbsp mayonnaise
2 Tbsp sour cream
1 Tbsp powdered mustard
1 Tbsp powdered erythritol
3 Tbsp vinegar
1 tsp garlic salt
black pepper
In a food processor, combine the cabbage, carrots and chilli. Pulse until they are the size you want. Move it to a large bowl. In a smaller bowl, combine the rest of the ingredients and mix well. Stir the sauce into the cabbage and mix until all the vegetables are evenly coated.
6. Green bean and feta salad:
green beans
cherry tomatoes
danish feta
red onion
olive oil
Steam/boil/roast your green beans until cooked. Let them cool. Slice the cherry tomatoes in half and slice the red onion into thin rings. Put the green beans on a large plate and sprinkle some danish feta over. Add the tomatoes and onions. Drizzle olive oil over the salad
Dessert:
3. Christmas pudding - thelowcarbdiabetic
4. Keto whisky balls: 
1 cup pecan flour
1/2 cup cocoa powder
2/3 cup powdered erythritol
110g butter
1 - 2 shots whisky
toppings: desiccated coconut, powdered erythritol, chopped nuts
Combine the flour, cocoa powder and erythritol and mix well. Melt the butter in a small pot on medium heat, add the whisky. Add to the dry ingredients and mix until you have an even consistency. Roll into small balls, add any toppings you want by rolling the balls over them while still soft, or leave plain. Refrigerate until the whisky balls are solid to the touch. You can also replace the whisky with espresso for coffee flavour.
5. Ginger pecan ice cream:
1 cup heavy cream
2 tbsp butter
1/3 cup erythritol
1 tsp vanilla extract
2 tsp ginger powder
2 egg yolks
2/3 cup chopped pecans
1/8 tsp xanthan gum
Melt the butter in a shallow pan until it is slightly browned. Don't burn it but browning it will bring out the flavour. Add in the cream and allow it to come to a simmer. Turn the heat down to low and add the erythritol and ginger powder. Stir until everything is dissolved. Move the mixture to a deep mixing bowl. Use a hand mixer to make it slightly frothy. Add the xanthan gum while continuing to mix.
In a separate bowl, beat the egg yolks and vanilla together.
While mixing the cream mixture again, slowly add the egg yolks into the bowl. The mixture thickens quite nicely.
Fold in the chopped pecans with a spatula. Place your ice cream in the freezer and stir it after 40 minutes to prevent the pecans from sinking to the bottom. Leave it to set thoroughly in the freezer. To serve, let it sit at room temperature to soften. (adapted from a tasteaholics recipe) 
6. Almond milk eggnog - alldayidreamaboutfood
7. Keto eggnog - gnom-gnom 
8. Creamy keto eggnog - ruled.me
9. Keto english trifle - queenketo
10. Strawberry trifle - wholesomeyum
11. Death by chocolate cheesecake (add mint essence to make it peppermint crisp tart)
12. Homemade truffles - tasteaholics
Tags:
Christmas
Sweet
Thanksgiving
Festive
Turkey
Eggnog
Holidays