Banana bread is one of those things that I wasn't sure I would ever have again. I was never much of a fruit eater before keto, but I LOVED banana bread. Waide's been introducing more fruit into his diet and since we had bananas in the house, I decided to try make some. I wasn't expecting much but this was one of the best "first try" recipes that I've ever done. I love keto baking!
Ingredients:
1 overripe banana (mine was 94g)
1/2 cup melted butter
2 Tbsp. oil (I used pecan oil but olive would work too)
3 large eggs
1/4 cup double cream plain yoghurt
1/2 cup powdered erythritol
1 cup pecan flour (I'm not sure this would work with almond, but if you try please let me know)
1/3 cup coconut flour
2 tsp. baking powder
2 tsp. vanilla extract
1/2 tsp. xanthan gum
Preheat the oven to 180C/350F
In a blender or food processor, combine the peeled banana, erythritol, vanilla, oil, yoghurt and butter. Blend until everything is combined.
In a large mixing bowl, use an electric beater to whisk the eggs until light and frothy (approx. 2 minutes). Add the banana mixture to the eggs and beat well.
Combine the remaining dry ingredients. Add the dry mixture to the wet and fold it in until everything is mixed. Pour the batter into a silicone loaf pan.
Bake at 180C for 45 minutes or until a toothpick/skewer comes out clean. Let it cool for 10 minutes before removing it from the loaf pan.
TIP: to cut it, turn it over, the bottom part of the bread is firmer than the top.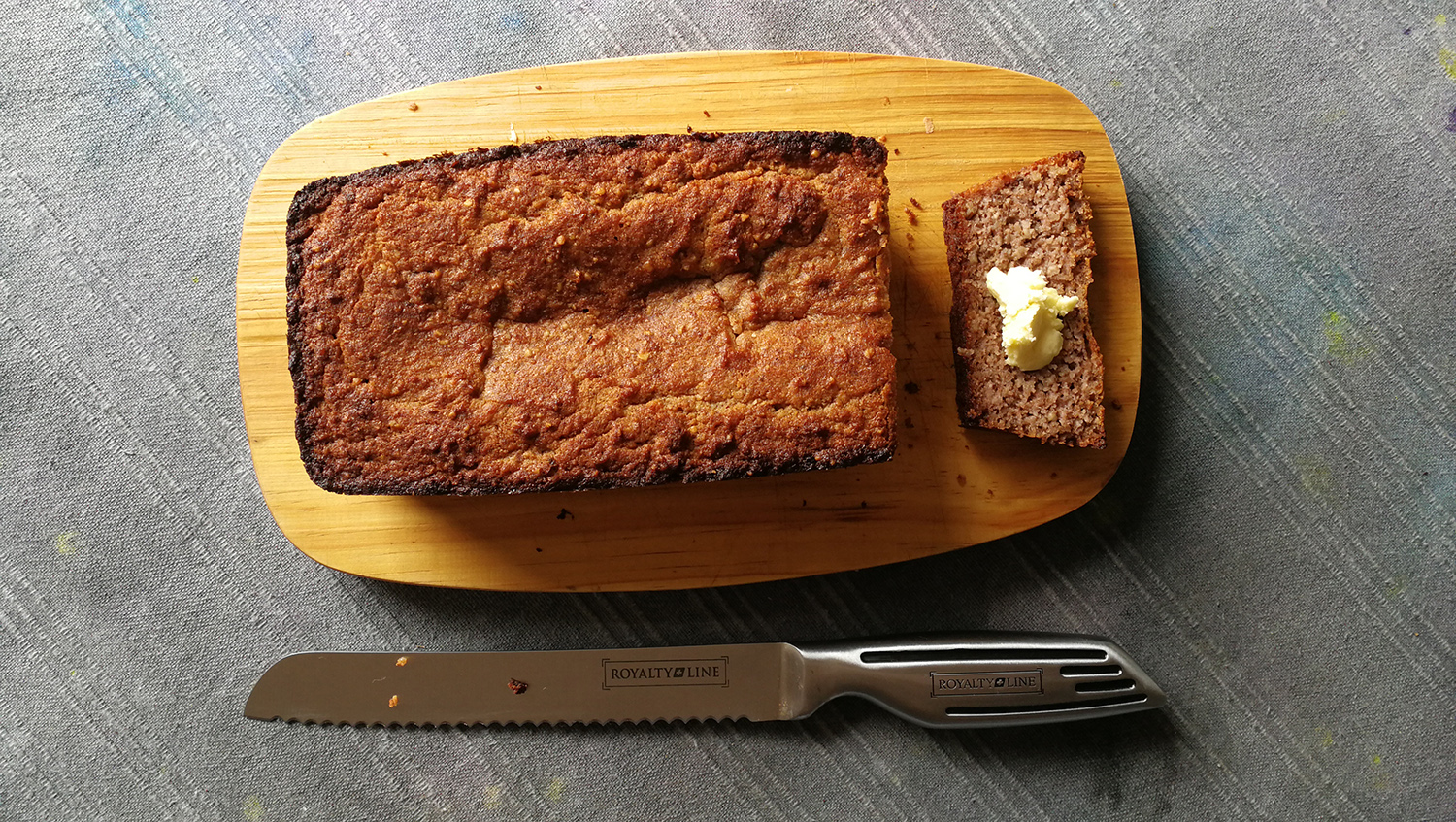 Approximate macros per slice (assuming 11 slices):
Carbs: 5g
Fat: 17g
Protein: 5.3g
Calories: 200
Note: These are based on my ingredients, always work out your own macros based off the nutritional information on your ingredients.
Tags:
Butter
Pecan
Sweet
Banana
Bread
Fruit
Eggs
Recipe