I don't like salad. And having said that... I could live on this stuff. I made this for the first time for Christmas at my parents' house. My mom was a little against the idea of a salad without lettuce (she likes lettuce, I don't)  but as it turns out, it was a winner. The salad has taken on a life of it's own as well, I'm pretty sure keto.ivy lives on this stuff. I made it for family over Easter and my cousins were literally fighting over who got to eat the last of the salad. Three girls, under 14, it was hilarious! If you aren't a fan of salad, give this a try, it might totally change your mind. 
Ingredients:
1 cucumber
basil
handful of pecan nuts
1 tbsp butter
1/2 red onion (or spring onion)
1 medium yellow pepper (or whatever colour you have)
1 avocado
chives
blue cheese
danish feta (or goat's cheese feta - I didn't have any, this works really well)
1/2 lime
10 olives
Click here for the printable cucumber salad recipe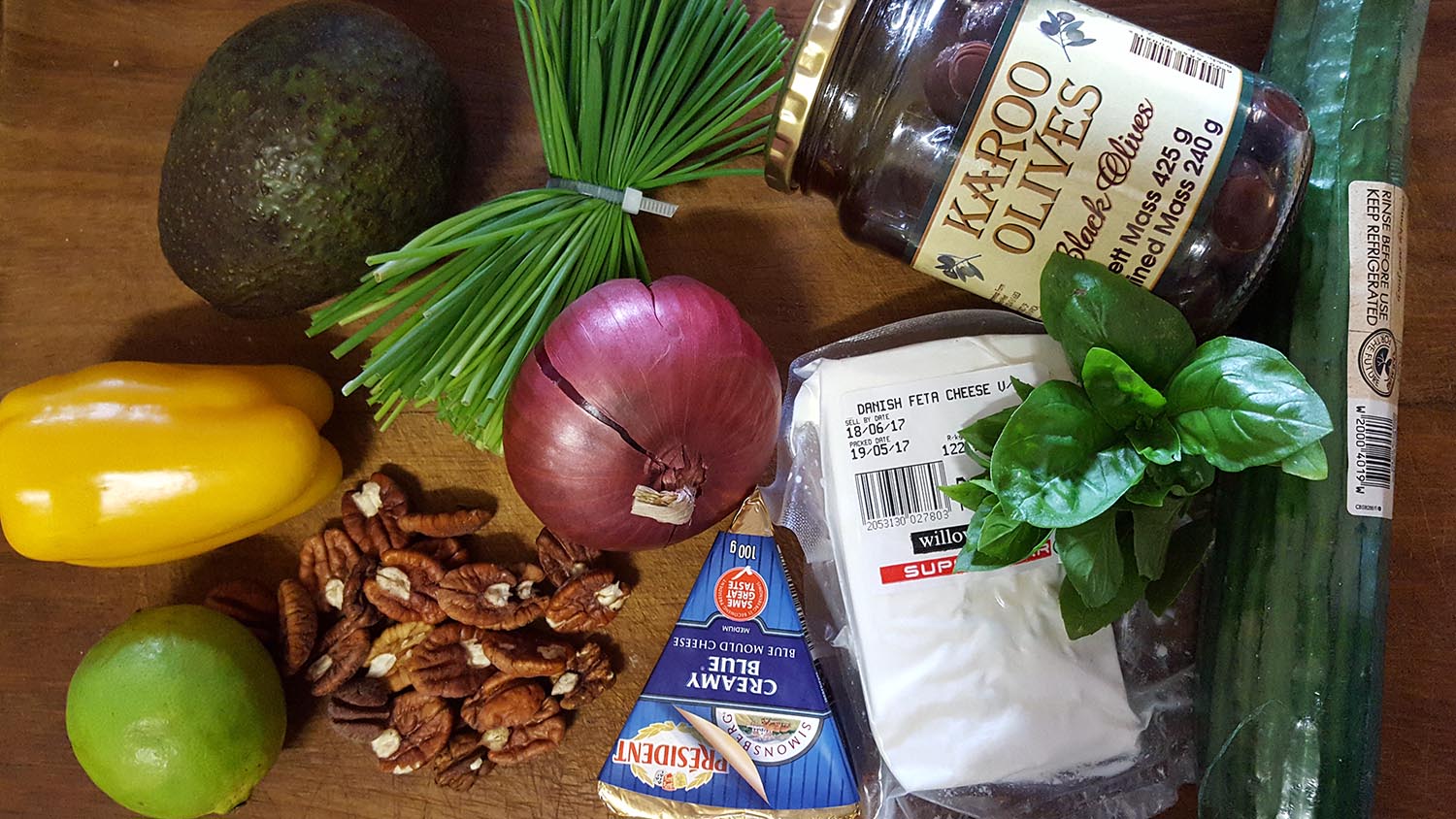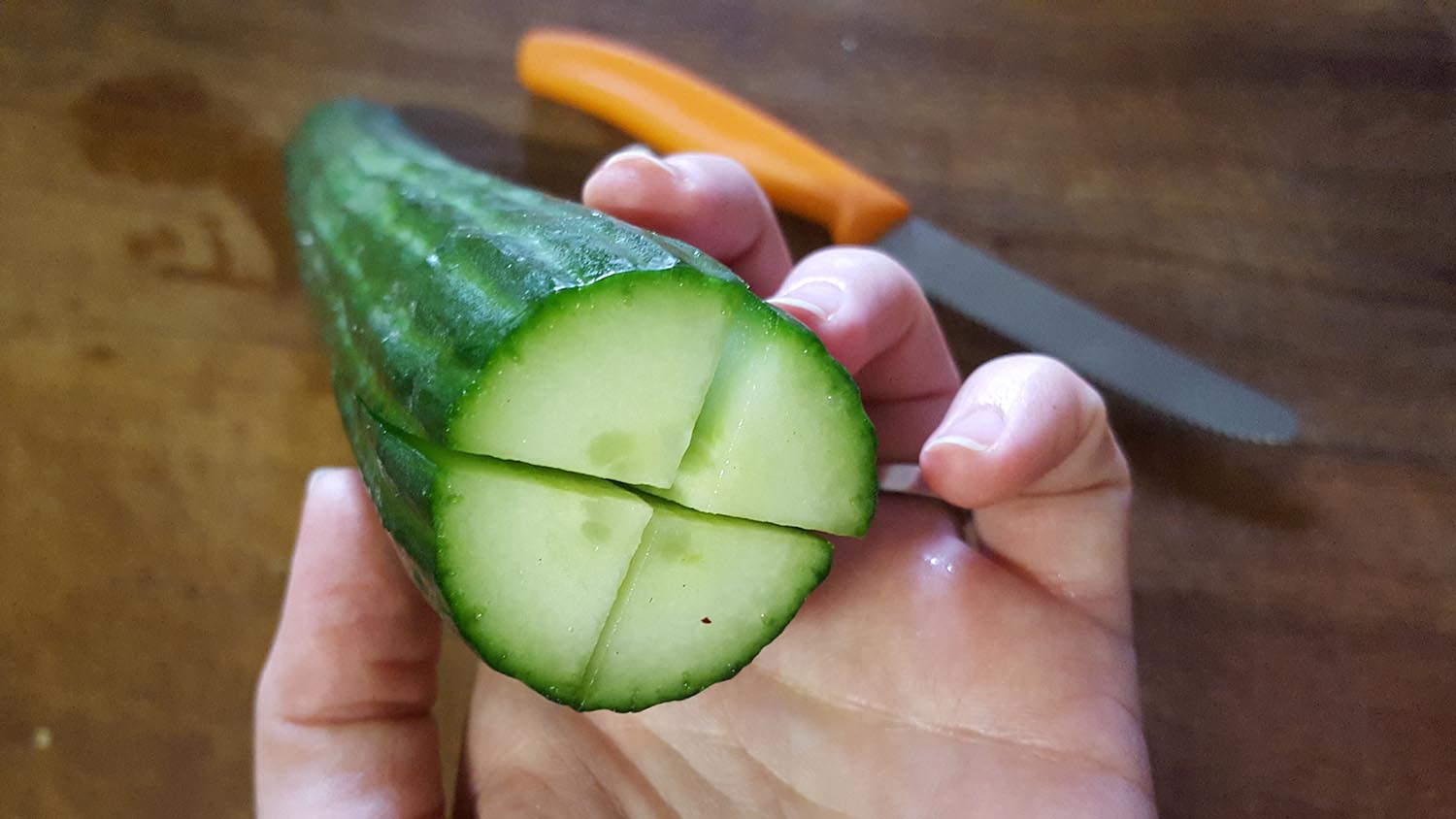 The ingredients in this can vary based on what you like/have available and how much salad you want to make. One medium cucumber makes enough salad to feed about 6 people as a small side, and 4 as a main element of the meal. Cut the cucumber into quarters. The easy way to do this is to slice the one end off the cucumber and cut perpendicular lines almost to the bottom end. Hold it together with your hand and slice thinnish vertical slices until you get to the end. 
Melt the butter in a frying pan and fry the pecans until they are slightly browned. Set aside.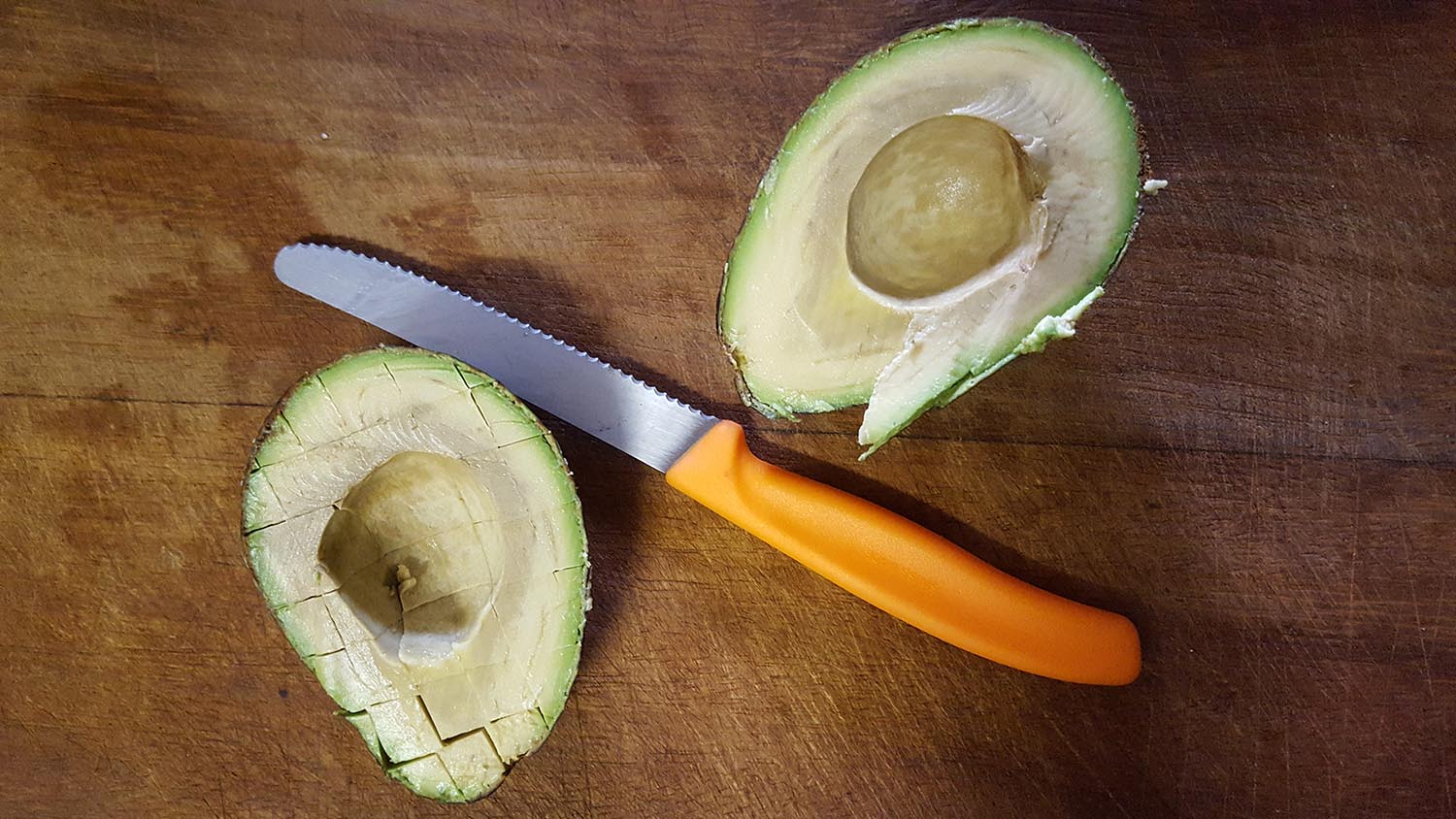 Slice the avocado in half and remove the pit. Tip: to slice the avocado into cubes easily, cut a grid into the avo without piercing the skin. Use a spoon to remove the cubes cleanly.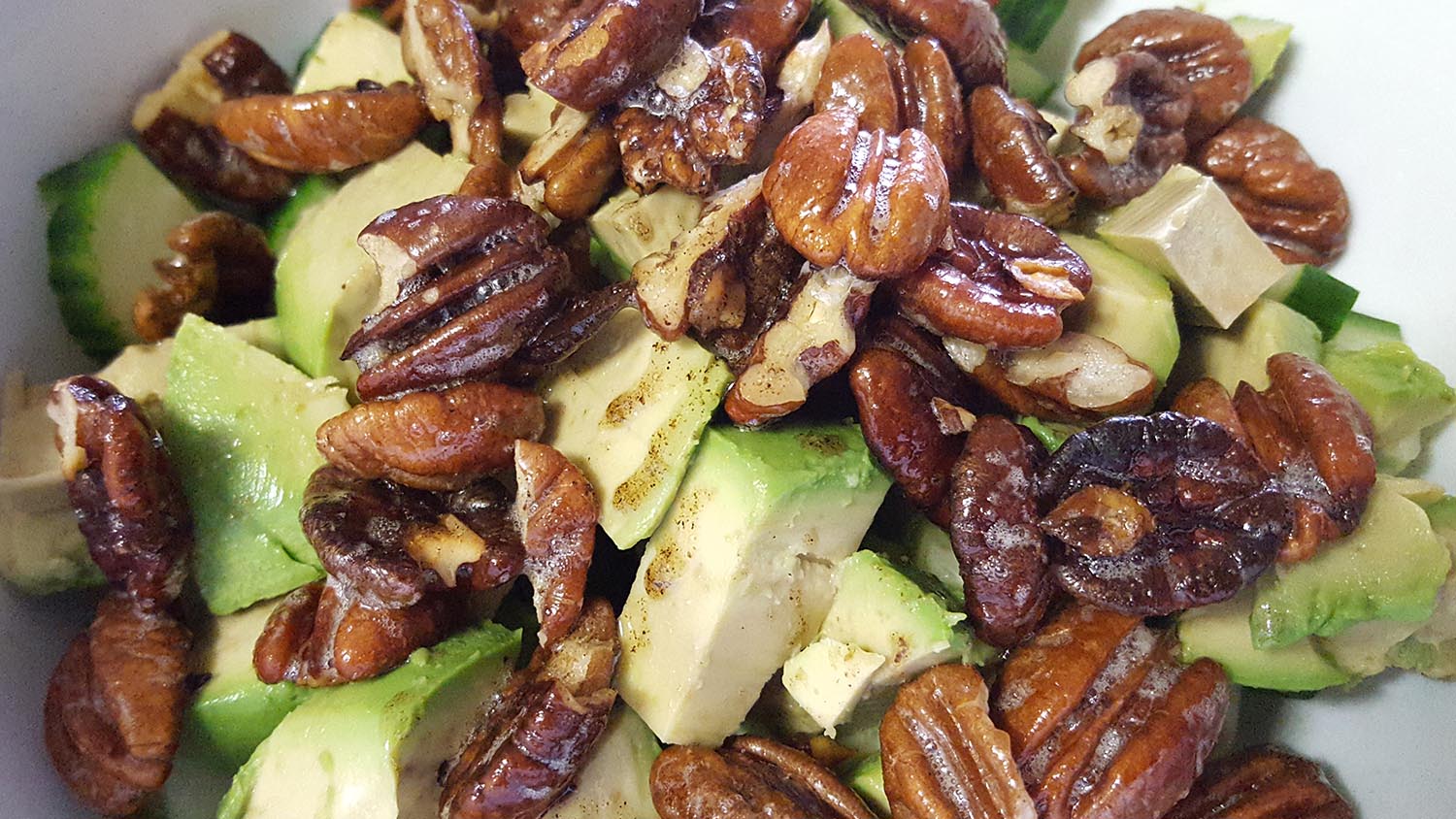 Mix the cucumber, avocado and pecans together in a big bowl.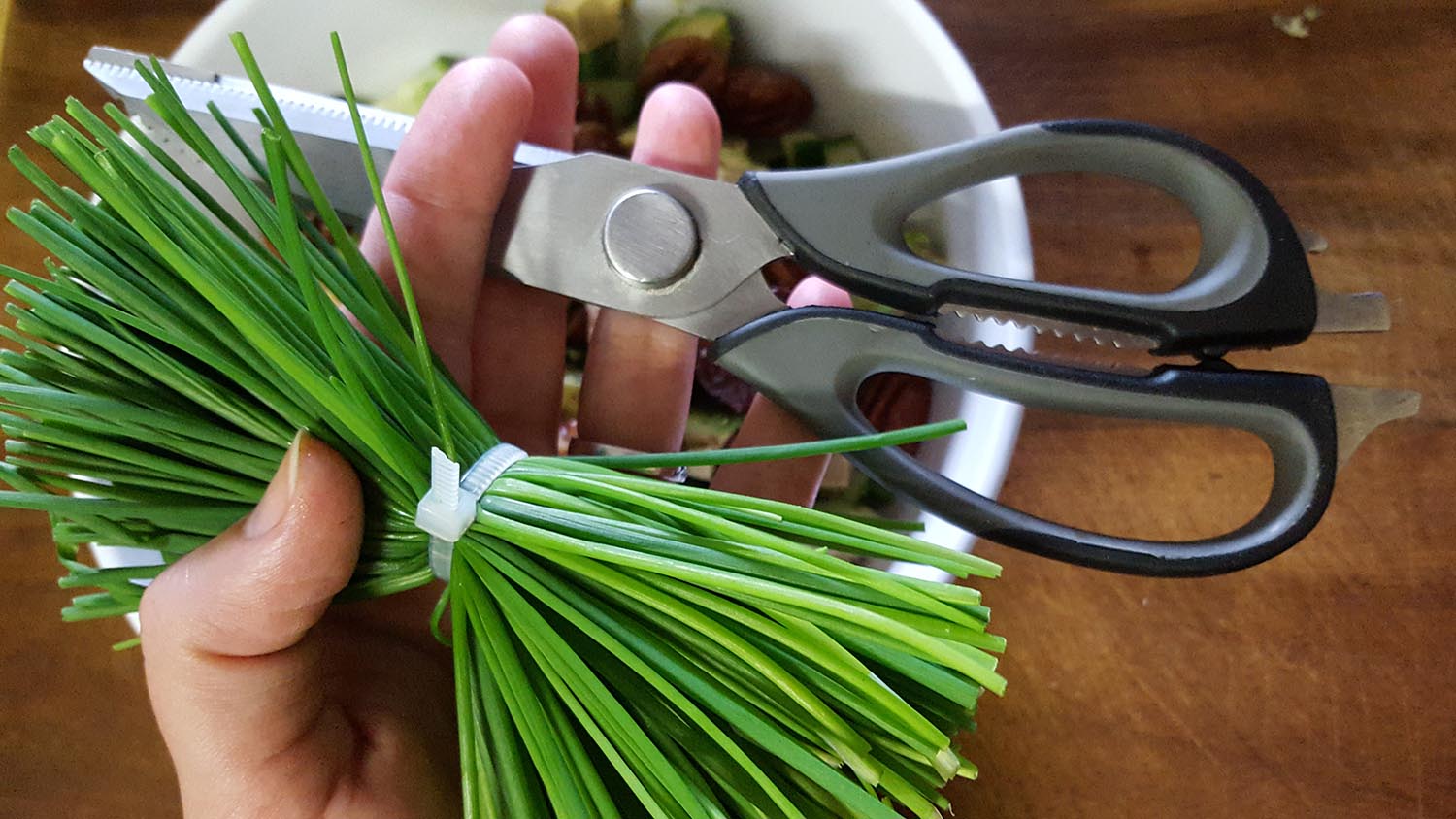 Cut the chives into the salad. Tip: I hate messing around with loose chives, so I tie them with a cable tie and use scissors to cut them - much easier! 
Slice the rest of the ingredients into the salad, add the cheese and mix well. Squeeze the lime over the salad and add some salt & pepper. I've made this with chicken strips in it as a main meal before and it is very filling. I've also added sprouts to this before.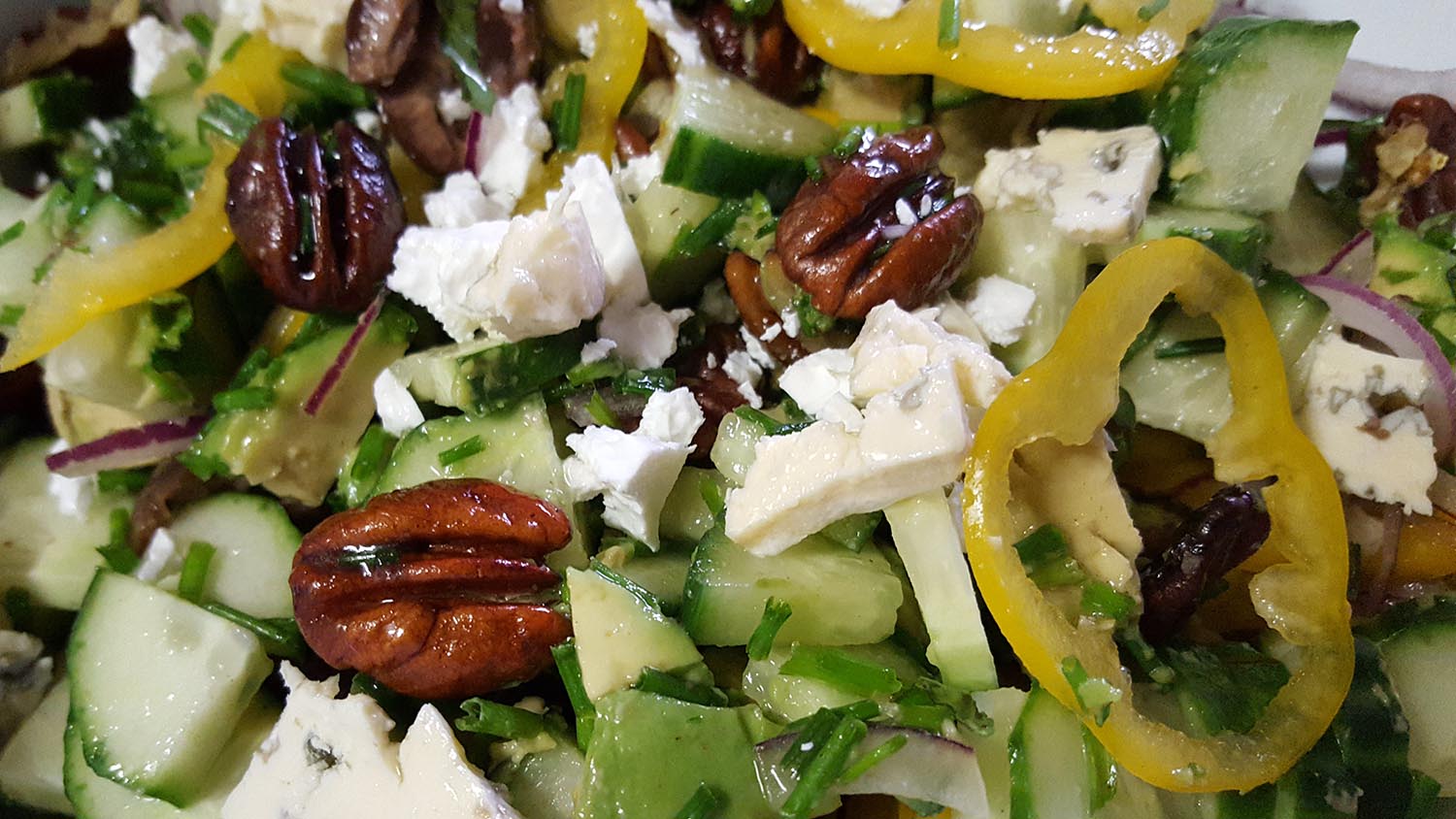 It lasts really well in the fridge for lunch (or dinner v 2.0) the next day. 
Tags:
Dinner
Keto_Basics
Pecan
Recipe
Cucumber
Chives