Pork belly is one of my favourite cuts of meat. We eat this more often than steak. And if you watch Masterchef, you will probably have noticed that it's growing in popularity. We are fairly lucky in South Africa because pork belly is available easily and relatively cheaply. I usually buy 3kg (6.6 lb) cuts, so they take a while to cook and because they are so big, they are often weirdly shaped. Sometimes they have bone, sometimes cartilage. When I buy the fancy looking, nicely cut ones, they are usually around 800g (1.7 lb) and cook a lot faster.
Before I started keto I had never even heard of pork belly. It has slowly become a staple in our house because, if done right, it can be breakfast, lunch and dinner for a few days. It freezes really well and is super versatile.
There are thousands of ways to cook pork belly, this is simply the way I prefer. It's a very easy recipe but one of my most impressive meals. People keep thanking me for going out of my way to make such fancy food for them. Just be aware that pork belly is quite high in calories, 520 calories per 100g (0.2 lb).
Pork belly meal ideas:
Sliced pork belly with steamed/roasted veg
Pulled pork on pumpkin puree/cauliflower mash
Pork belly and crackling served on sautéed spinach with a poached egg and hollandaise sauce
Pork belly with asparagus and fried egg
Pulled pork in a creamy alfredo-type sauce served with zucchini noodles
Pulled pork served with melted cheese and olives/nuts/cucumber (snack type foods)
Crispy fried pork belly strips in duck fat (I am dying to try this but I need a sharp knife first)
Shredded pork belly with stir fried vegetables
Ingredients:
pork belly (skin on)
beef stock cube (or leftover stock)
garlic
red wine (optional)
boiling water
coarse salt
olive oil
thyme/rosemary
lemongrass (optional)
Click here for the printable pork belly recipe 
If you are using a frozen pork belly, defrost it the day before and leave it in the fridge overnight. Coat with olive oil and rub about a tablespoon of coarse salt into the skin. If your skin is already sliced, rub it between the slices into the fat. Add more if needed. Slicing raw pork skin is tricky, so if it's not pre-sliced, cook it as is unless you are willing to try slice it. The skin will be used as crackling and the salt will work in your favour. I don't rub any salt into the meat, only the skin.
The marinating is totally optional. If you use a freshly bought pork belly you can use it immediately. Cover in olive oil and rub salt on the skin as described above.
Place the pork belly skin down in an oven safe dish (baking tray etc.). If you are using a small (under 1kg or very thin) pork belly, cover the tray with tinfoil. For larger cuts, leave it open. Place the dish in a cold oven and turn it up to the highest temperature. Make sure the oven is set to bake, not grill. Cook for 30 minutes.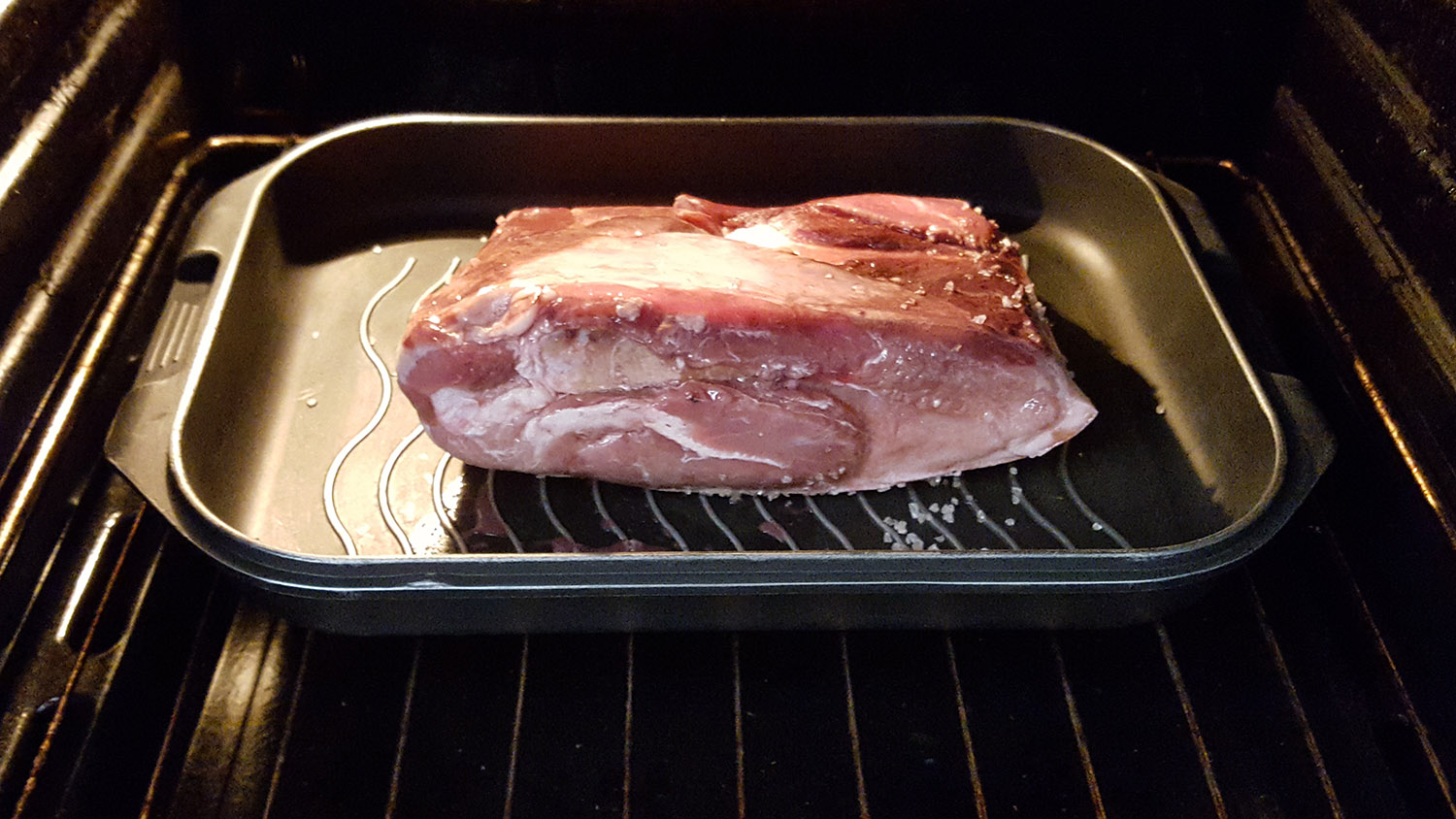 Once the time is up, remove it from the oven and flip it over. Turn the oven down to 350F/180C. I usually do the skin down step in the same casserole/baking dish that I will cook the pork belly in. This will mean that some of the salt on the skin will end up in the cooking liquid - you want this to happen. The next part of the cook is covered, so make sure it has a lid or that you can cover it in foil. Add a bit more coarse salt to your skin, being careful not to let too much salt fall into the dish.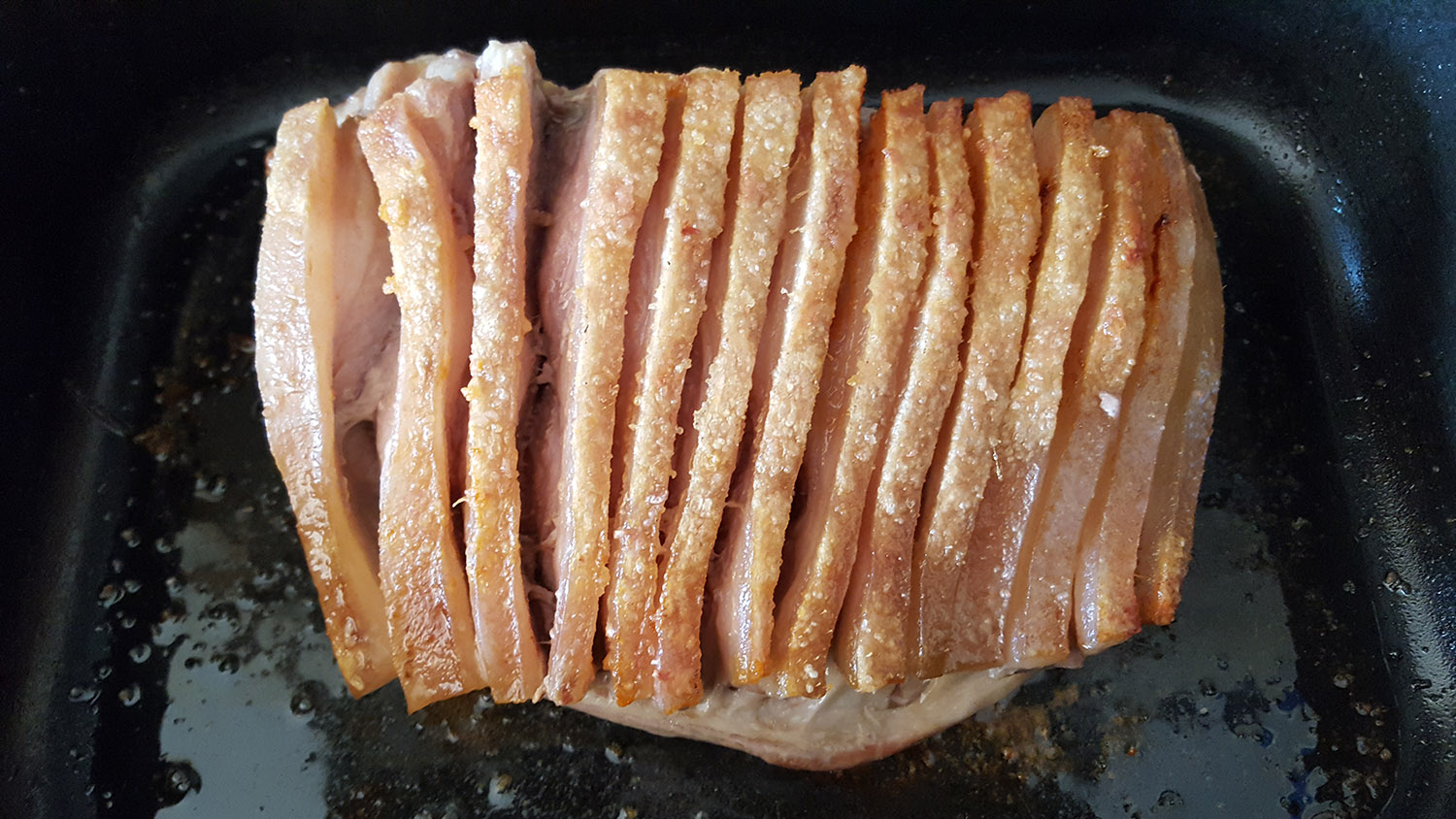 Add your red wine, garlic, beef stock in boiling water, thyme and lemongrass. The liquid should cover the meat but NOT touch the skin at all. If the pork belly is a funny shape, there's a chance that some of the meat will stick out of the cooking liquid - this is fine. The liquid must just not touch the skin.
Tip: I slice my garlic bulb horizontally. I usually remove the outer layer of skin that comes off easily but I put it in the pot with most of the skin on. I used dried lemongrass that I  tie into small bundles to keep them together so that I don't have to try fish out all the potential papercuts from the food.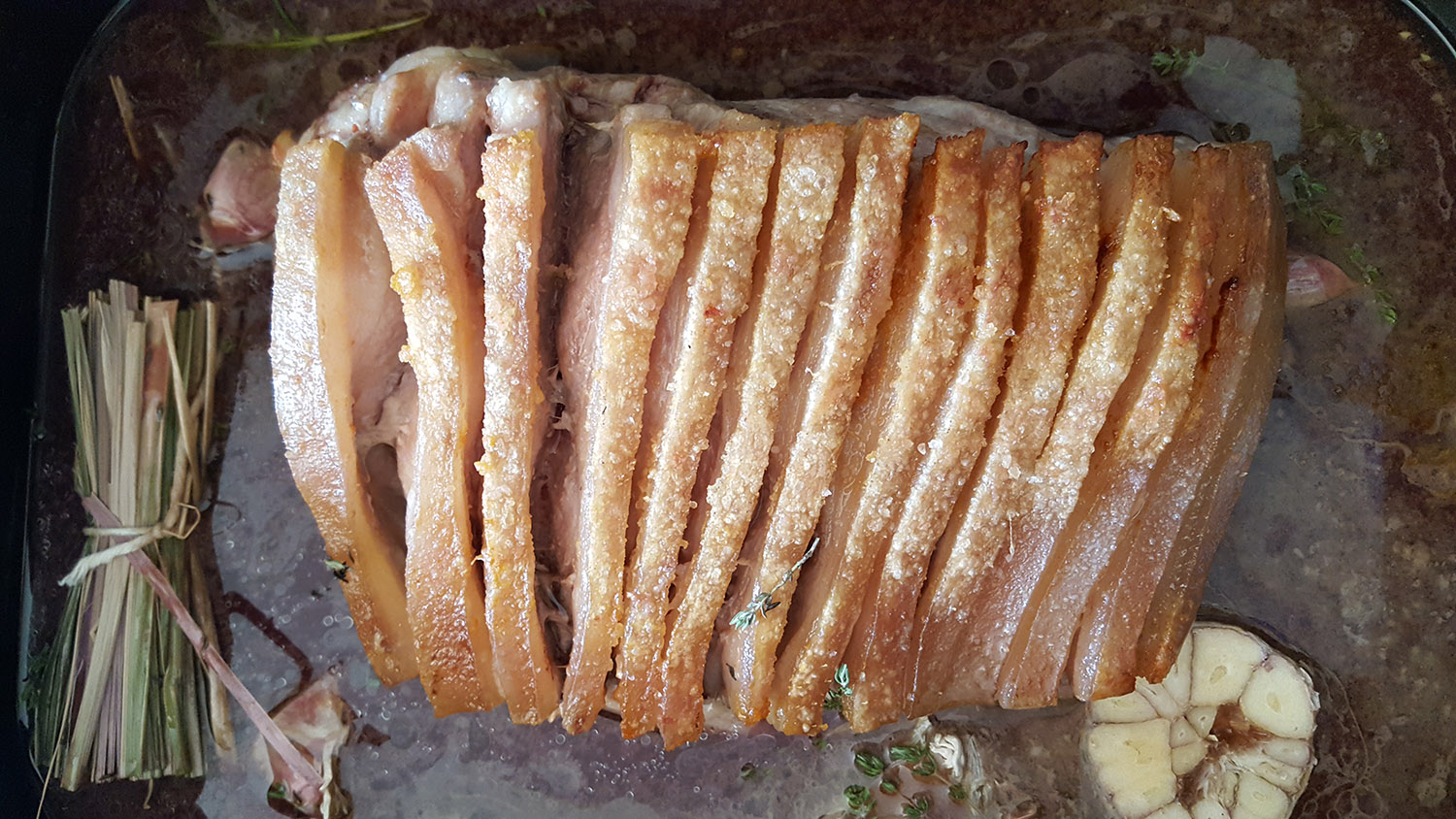 Put the lid on and place the dish in the oven carefully. I usually cook my pork bellies for 1.5 to 2 hours. It will depend on the size and what you want to do with it. If you have a small cut, check the meat at 40 minutes and then every 20 minutes thereafter. To make pulled pork, it needs a longer cooking time. To make slices of pork belly, it will need less time (probably around 1.5 hours) to cook through but not fall apart. Use a fork, or cut into the centre, to check if it's cooked. Remove from the oven once done. The skin doesn't look appetising at this point, don't worry, that gets fixed.
For sliced pork belly with the crackling attached: slice the meat into the required size. Place it back under the grill until the crackling is crispy. Watch it carefully, it's easy to push it too far.
For pulled pork: with a sharp knife, carefully remove the skin (with a layer of fat). If the skin is in one big piece, cut it into strips or squares. Place the skin on a baking tray under the grill under crispy. Watch it carefully, it's easy to push it too far. While the crackling is cooking, shred the meat with two forks. Serve with a spoonful of the liquid left at the bottom of the dish.
Tip: ALWAYS reuse the left over stock. It can be turned into a gravy with a bit of  cream cheese but usually I freeze it to use in stews/soups. Another idea is to use it in your next pork belly. Defrost it the day before along with your pork. Always remove the garlic bulb and lemongrass before you freeze the stock. Squeeze out the garlic into the liquid. I've used this pork stock to make oxtail and I'm not sure I'll ever make it any other way again.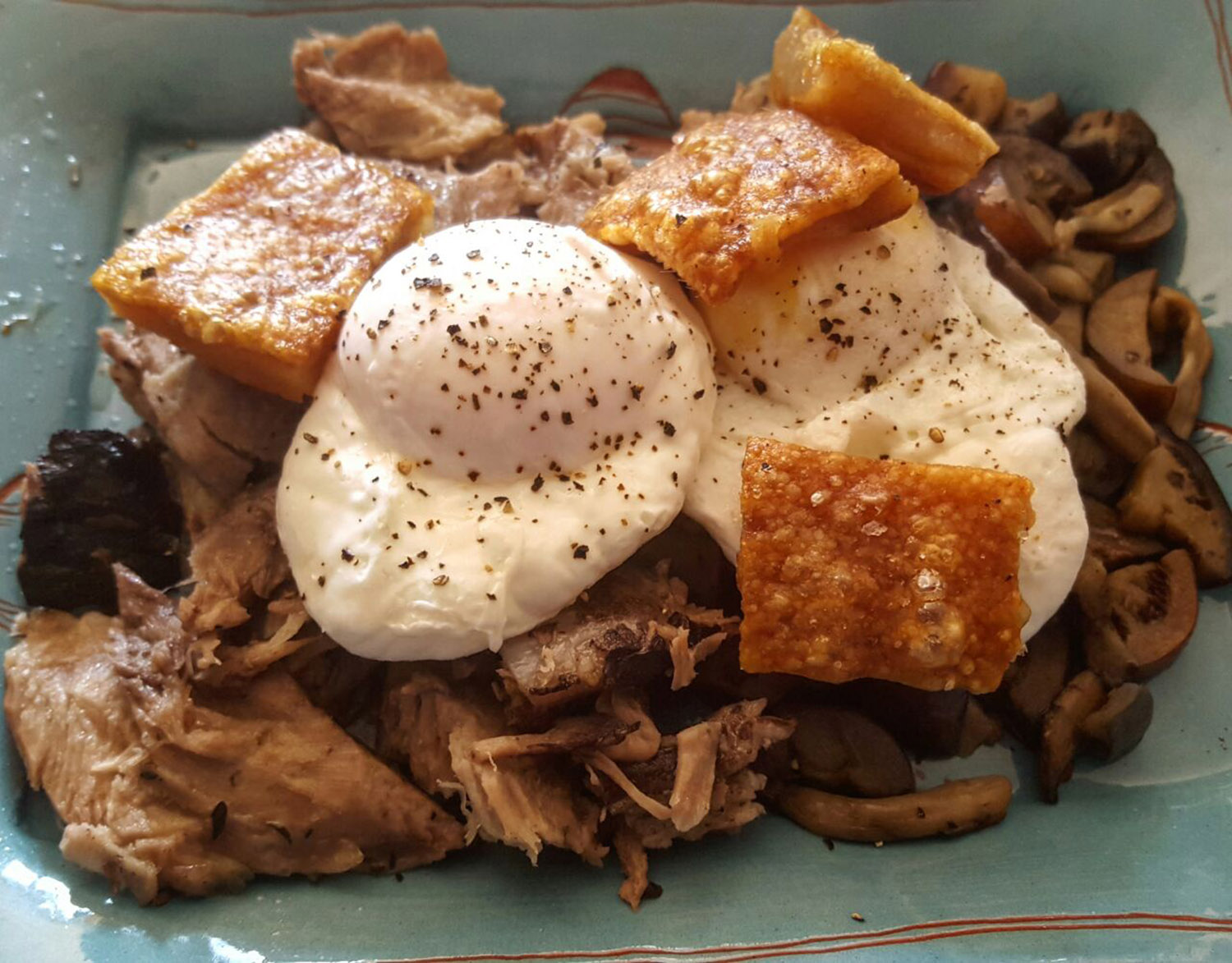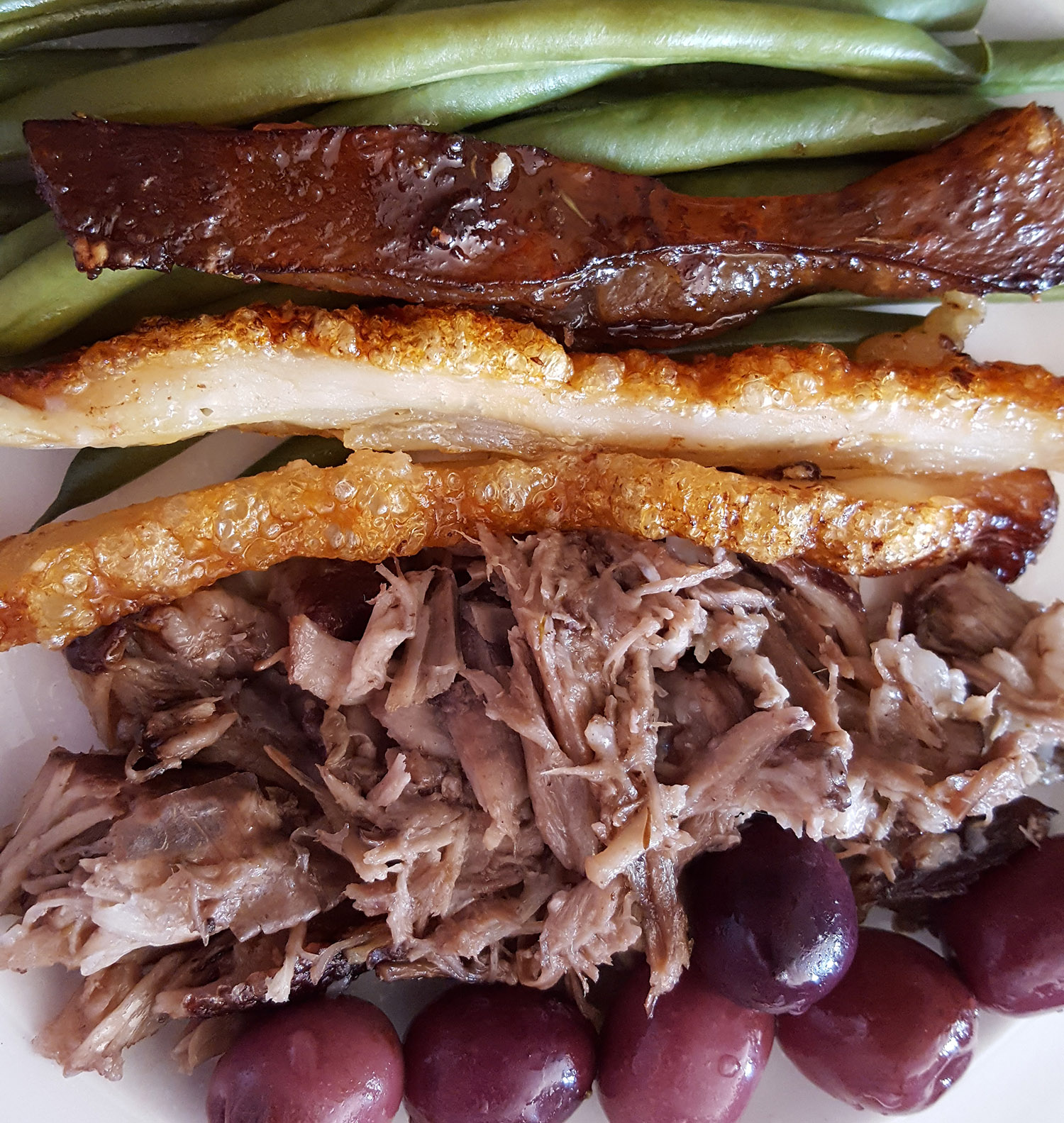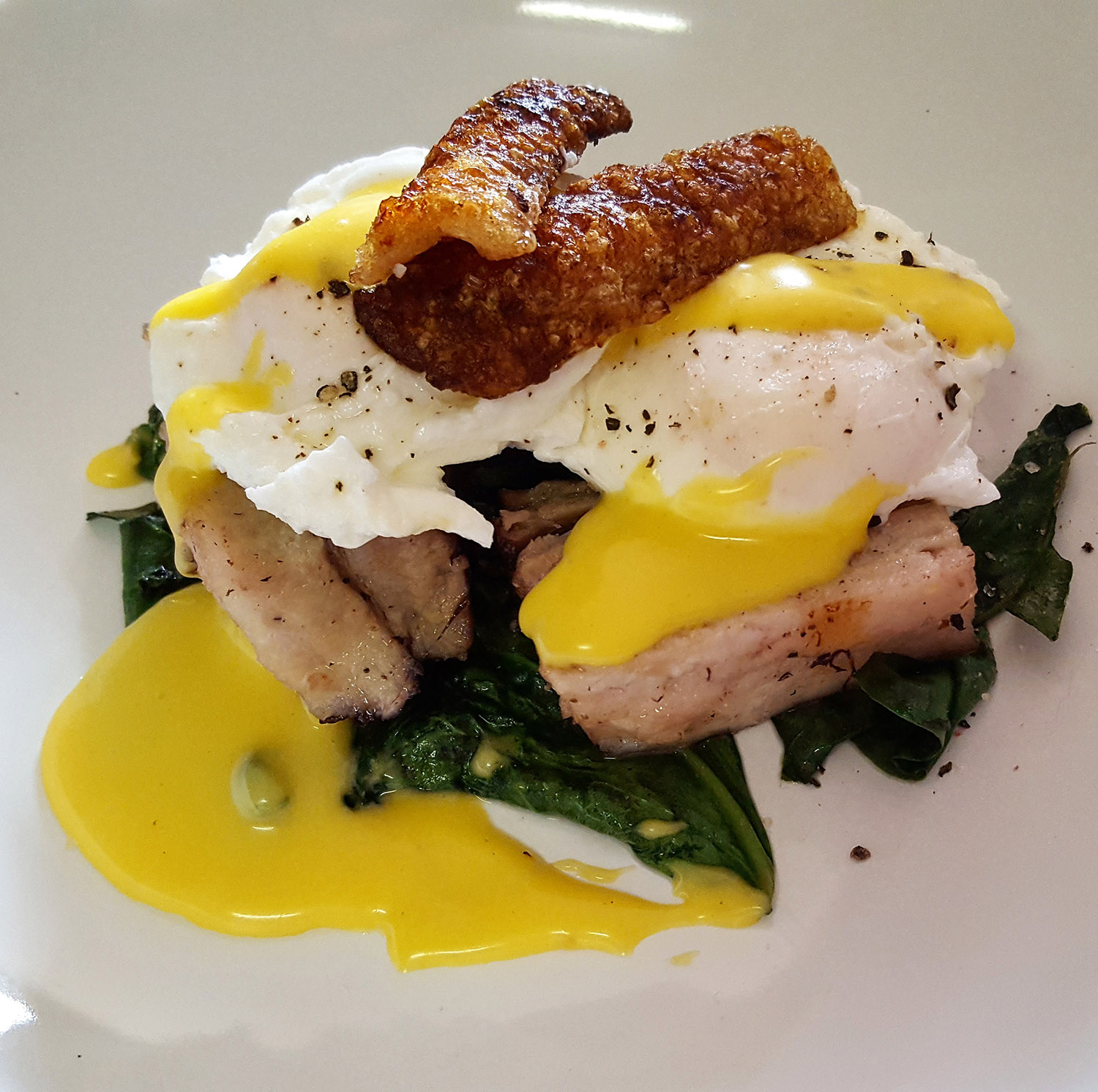 Tags:
Food
Recipe
Sauce
Pork
Belly
Pork+Belly
Crackling
Wine