It's still winter here and before keto, stew was always one of my favourite comfort foods. Admittedly, removing potatoes from stew, makes it much less "stewy" so we've just renamed it to "Stewp". Because, even if you have to eat it with a spoon, stew is still an easy and comforting meal.
I usually make mine in my crock pot (slow cooker), so by the end of the cook, the meat has pretty much melted into the rest of the dish. My standard vegetables in stews are: mushrooms, green beans, tomatoes, Brussels sprouts, pattypan squash, baby gem squash, cabbage,  and sometimes even bok choy. Usually not all at once, but if you experiment with a mix of these you might find something you like and that fits your macros. If you don't add too much liquid to the dish at the start and cook it for long enough, you can sometimes get a thick "real stew" consistency. Especially if you add vegetables that dissolve when cooked for long enough, like tomatoes. I usually replace the rice with gem squash, fried cabbage or fried cauliflower.
Ingredients:
1kg stewing beef
1 small onion
1 beef stock cube in a cup of boiling water (or existing beef stock saved from another meal)
1 glass of red wine 
salt & pepper
olive oil
1 tsp paprika
1/2 tsp chilli flakes
2 tsp favourite spice mix (I use this)
vegetables of choice: green beans, Brussel's sprouts, mushrooms
thyme
2 bay leaves
3 cloves of garlic
Click here for the printable beef stew recipe 
In a large skillet (or regular frying pan), brown the stewing beef. To be honest, half the time I skip this step and just throw everything into the crock pot and press GO. But, it really adds a lot of flavour so it is definitely worth it. Also, we bought a skillet last week so I am quite literally frying everything I can get my hands on.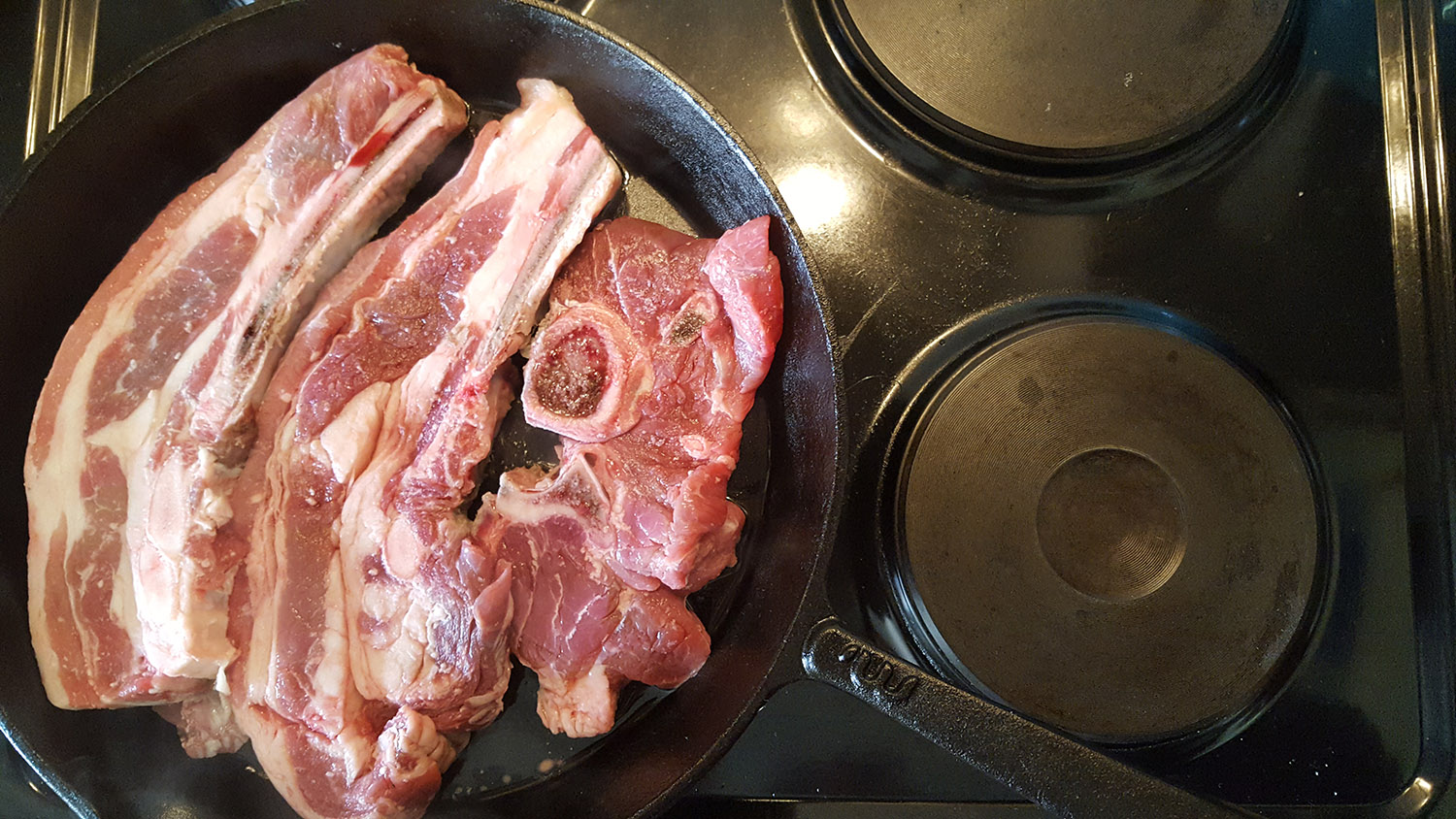 When the meat is nicely browned, place it in the bottom of the crock pot. In the same pan you used for the beef, add the sliced onion, sliced garlic, chilli flakes, sprig of thyme and the other spices. Dry fry these for a few minutes or until everything starts to stick.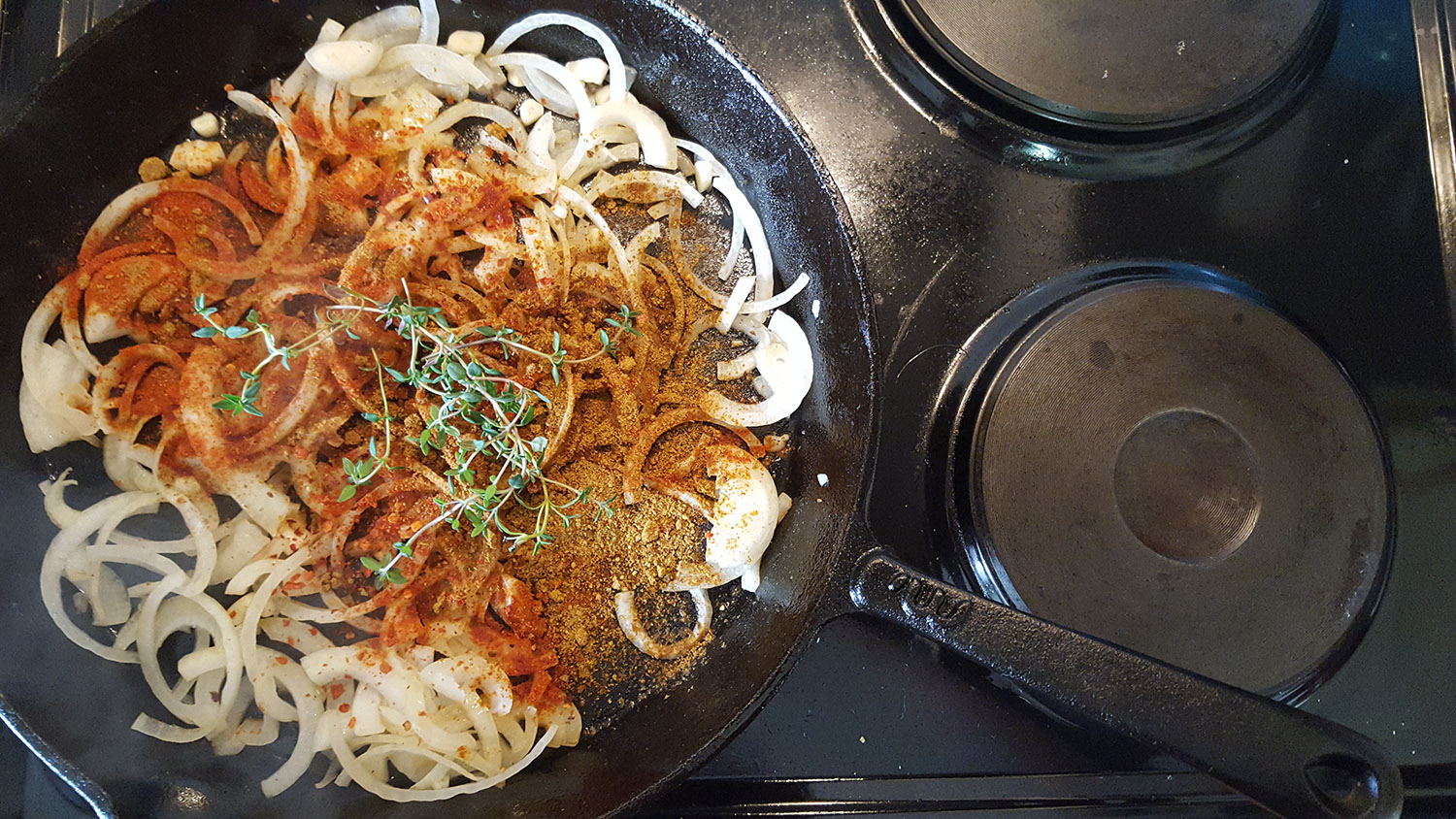 Carefully pour the wine into the pan to deglaze it. Mix everything well. If you can't use wine in cooking, you can replace it with more beef stock.
Note on the wine: you can use any red wine, but I usually use cheap red wine or red wine that we didn't finish drinking. Check the carb content on your wine as well.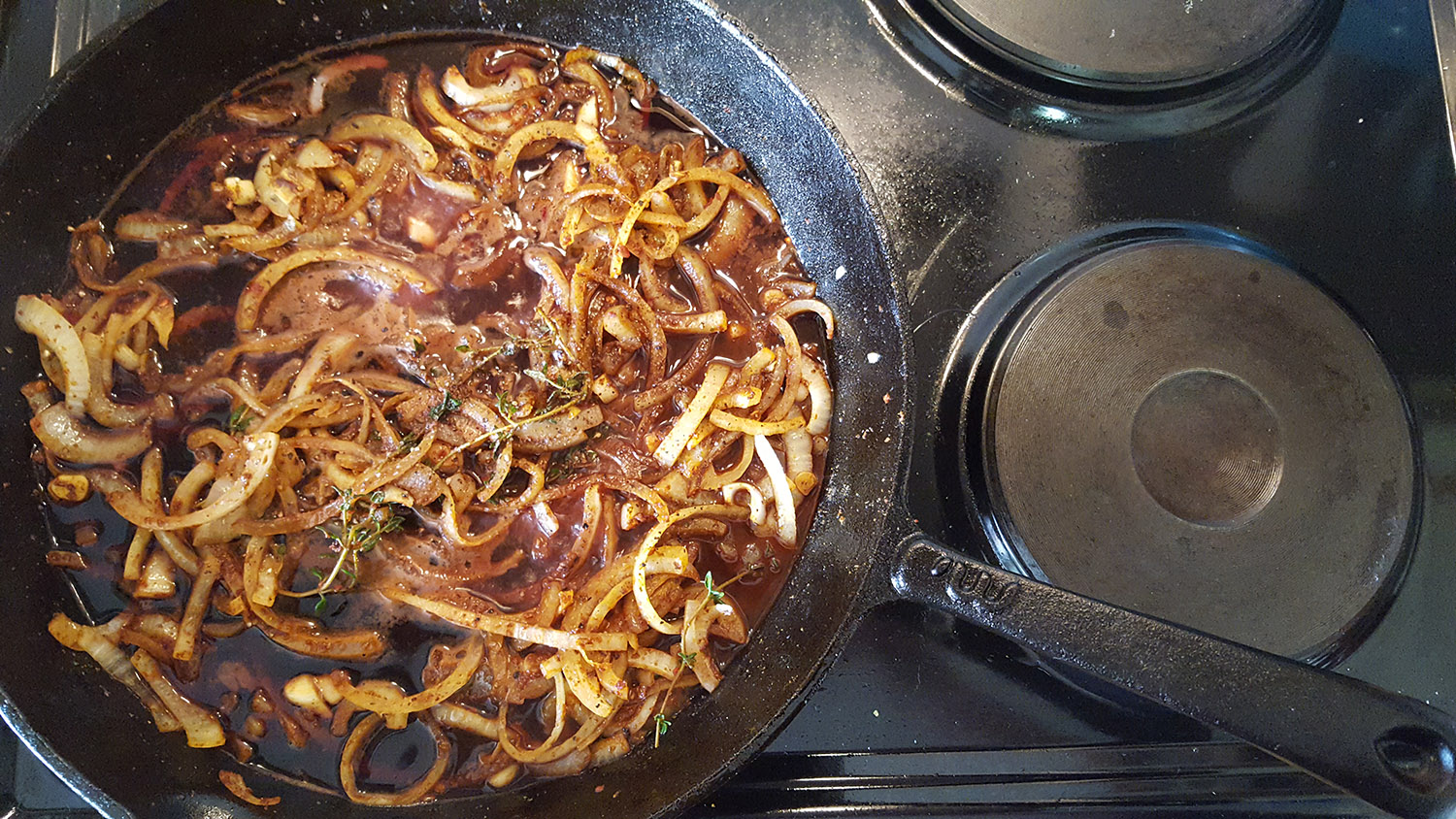 Pour the wine mixture into the crock pot over the meat. Add the bay leaves, salt and pepper, and the beef stock. When filling a crock pot, you should always make sure that the liquid just covers your meat. Don't use too much - it will not reduce much. You can also make this meal in your oven, but keep a closer eye on the level of the liquid.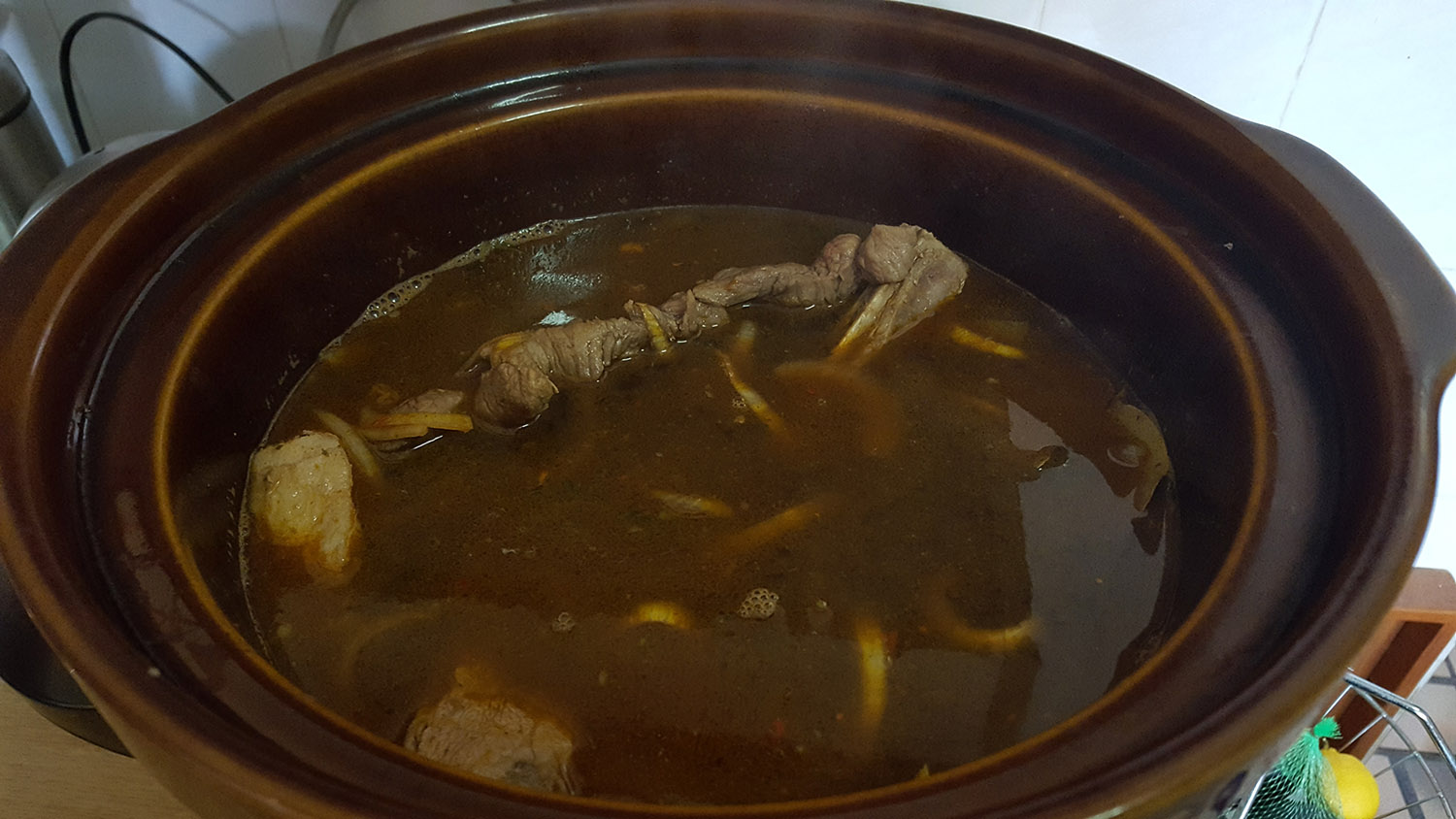 If you are using a crock pot/slow cooker, place the lid on, turn it on to high and let it cook for about 4 and a half hours. Then remove the lid carefully and add the vegetables. Mix them into the stew. Replace the lid and let it cook for another hour to hour and a half. You can start it earlier and cook it on low for a longer time as well.
If you are doing this in your oven, use an oven safe dish with a lid and place the mixture in an oven at 180C/350F for about 3 hours, then add your vegetables and continue cooking until the meat is cooked. I usually cooked stew in the oven for about 4 - 5 hours, depending on the meat. Check the liquid levels every 90 minutes.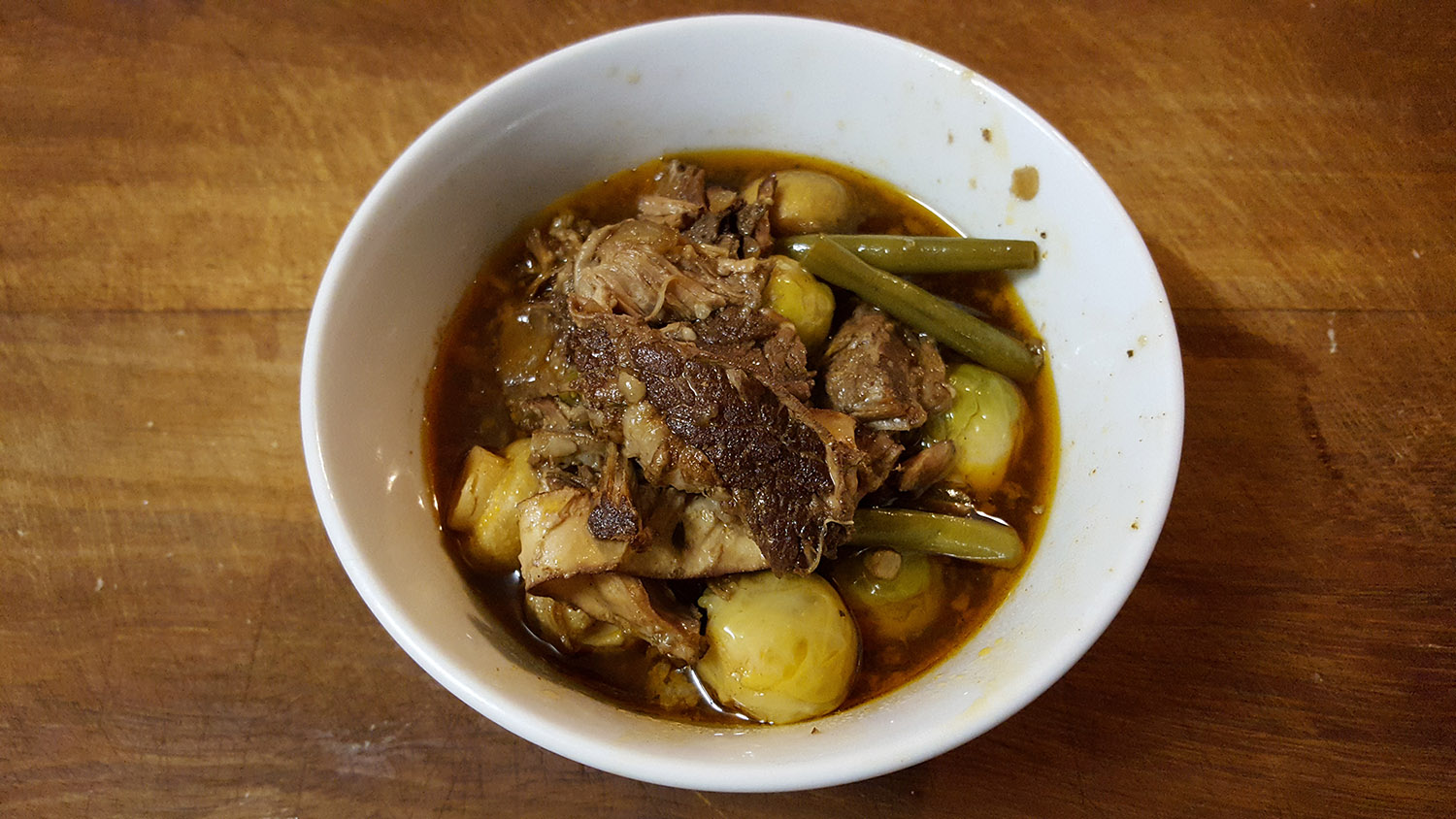 Tags:
Beef
Dinner
Keto
Recipe
Vegetables
Stew